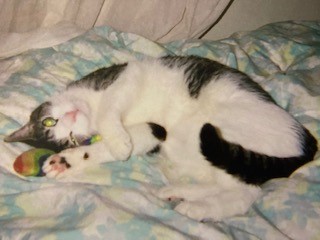 My beloved cat, Frankie, passed over several months ago.  While I felt sad at the time and continued to grieve his loss, I was comforted that he passed peacefully at home surrounded by the beings that he loved most.   I was not ready to place his photo on my dresser beside the pictures of pets who previously passed on, yet it felt like his death as his life, unfolded just as it was meant to.  He had a long full life and had recovered from numerous illnesses along the way.  One time in particular, he literally died and came back to life in my arms. 
Just a few days ago, I found myself wondering what might motivate me to write my next blog.  I had no plan to write about loss and had set the following intention: "in each moment I am fully present, aware and connected to both the Earth and my Spiritual Guides".   Since we teach what we need to learn most, I am sharing this journey with you.
2 nights ago, seemingly out of nowhere, I was overcome by a tsunami of grief and guilt over his passing.   I found myself questioning the choices that I made concerning his care.   My appetite disappeared and I have been experiencing the nausea that for me is associated with self-blame.  This sick feeling laced with regret is the single most toxic emotion to my soul.  It was not that I could not breathe, it felt like I did not want to. I have been feeling like I want to die; more accurately that I don't want to live with the pain and guilt.
A month ago, I spoke to a woman who told me that she cannot forgive herself for the death of her dog.   I urged her to consider self-compassion, and let her know how much her dog loves her and that he does not want her to suffer.  The concept of self-compassion seemed foreign to her and she asked me what I meant by it.  I explained how she might treat herself with love and care, much as someone who loves her would.  The notion of being kind and gentle to herself did not seem like a possibility to her at the time.
As I sit now, in the present moment, I feel some sense of relief.  I can see ­the gift that lies beneath my grief and guilt.  This experience allows me to understand emotional pain on an even deeper level, so that I can carry out my life purpose of helping people and animals heal together.  It also offers me the opportunity to master self-love, the lesson that I am here to learn.  Perhaps this will be Frankie's greatest gift to me.  I am grateful to him for this and so much more.
Behind the thin veil of my heartache lies Frankie's unconditional and undying love for me.  As the rawness of my grief subsides, I will once again be able to feel his presence.  To sense his essence and the strength of his love, I need to first extend this love to myself.  Frankie could not be a greater source of inspiration to me, if he were sitting on my lap batting at my hair.   Our relationship lives on in a new and infinite form.
Explore How Pet Grief Sessions or Pet Loss Coaching can support You in Your Grief.
Healing With Self-Compassion