Get Your

FREE

 

Healing With Animals Guide
Learn How to Promote Healing in You & Your Pet
Send your Name & Email to Jill@HealingWithAnimals.com with Subject Line "Healing With Animals Guide"
Get on the Healing With Animals Email List
Watch a Short Video With Animal Wisdom
Support in Healing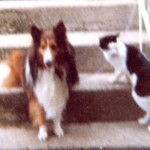 Understanding and healing your pet can feel confusing and frustrating. People in your life might not get the significance of your relationship with your animal or not know how to assist you. It can help to have an experienced and compassionate guide accompany you on this journey. Jill is honored to offer this support to you and your pet.

Jill has developed her intuitive skills with animals and people. She has explored many spiritual teachings and integrates them in her work. Jill promotes healing in a nonjudgmental and loving way. It is in that spirit that she shares her wisdom with you.

Pets & Healing

Pets are our partners "in sickness and in health." This offers the potential for healing in both of us.  Health Issues, Behavioral Concerns and Pet Loss can be "Healing Catalysts." They tells us that something needs attention. It is an invitation and offers an opportunity for Healing with Animals. Sometimes we are so focused on the presenting issue that we miss this potential. Jill sees the possibilities.

We often experience anxiety and other strong emotions when faced with a pet issue. This may cause us to react in ways that block healing. When calm, it is easier to know our truth and make wise decisions about our pet.  Finding that internal peace can feel challenging on your own. Jill can help you access that quiet place inside and show you how to spend more of your time in that state.

Content Copyright 2020 Jill Lauri.  All Rights Reserved.