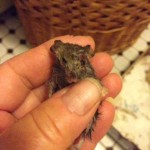 A few nights ago a neighbor called and asked me to come over.  I sensed distress in her voice and my first thought was that something was up with her dog.   When I arrived, I found a small gray mouse on her kitchen floor. 
The mouse seemed to be struggling to walk and had a gash on his head.  He was only a couple of weeks old and not yet steady on his paws.  After waiting to see if his mom would return, I took him home and began syringe feeding and treating his wound. 
While I have always loved animals, there was a part of me that felt squeamish when it came to mice.  The more that I held him and felt his life force within, the less important that seemed.  As I looked at his tiny body, I was amazed at "Nature's Miracle".  All of his life functions were contained in a being that fit in the palm of my hand. 
Gazing into the black piercing eyes of this creature, I felt his soul.  I understood just how precarious life is and the value in treasuring each moment.   The past only exists in our minds and the future is not yet a reality.   When we let go, we free ourselves up to accept the gifts that can only come our way in the present moment.  It is in the now that life unfolds and that we can experience joy, peace, whatever we choose.

Walking into the room to feed or check on Miracle, I prayed for his highest good.  It did not take me long to learn that mice sleep very deeply and can appear to be dead while in slumber.   I was pleased to see his condition each time, until last night when after my usual ritual of gently stroking his belly with my index finger, he did not wake up.
Miracle passed over safe, warm and loved.   While I feel a sense of sadness, I know that his life and death were of divine timing.  This fragile being left me with a greater appreciation for each moment of life.  While I do not know what my future holds, I can say that in this moment I am a more grateful human being for having had this experience of Healing With Animals.    
Healing With A Tiny Miracle