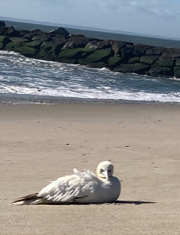 Sunday morning, I woke up to a text and video from a neighbor. He told me about a Gannet struggling with fishing hooks in his foot and tangled around his wing. It took several people to free him, and he was resting on the shore.
I quickly got dressed and proceeded to meet the "Magical Gannet". Charlie (the Gannet) was sitting on the sand and made it clear that he did not want my help. When I moved towards him, he loudly objected. I left him in the care of heavenly angels and planned to check on him again. When I returned a few hours later, he was nowhere in sight.
I slept peacefully that night, thinking Charlie had energized and flown away to safety. The following morning, my neighbor texted me that he was back on the beach. Once again, I quickly threw on clothes and headed out to the beach. Charlie had moved quite a distance from where he had been the day before. He seemed at peace as long as I kept a twelve-foot distance from him.
After texts back and forth, a kindhearted friend and animal advocate arranged for a Park Ranger to pick him up and take him to a Bird Rehabilitation Center. While I was waiting, two people came out with supplies to help rescue him. One of them stayed with me, guarding Charlie against impending danger, while we waited for the Park Ranger. Charlie sat on the sand and occasionally stood up and raised his wings, only to quickly sit back down again. At one point, he began grooming himself.
Two hours after meeting up with Charlie, the Park Ranger arrived with a net, long protective gloves, and a carrier. As he approached Charlie, the Gannet stood up, spread his wings, and flew towards the ocean and the rock jetties. Within minutes, he was beyond where any of us could see him. We walked along the shore looking for him, but Charlie was gone. The Park Ranger said that he would check back today. I looked for him last night and again this morning. While there were Sea Gulls galore, there was no sign of Charlie.
There were lessons for all the people Charlie the Magical Gannet drew into his world. For me, it offered the opportunity to see the beauty in people coming together to help another being in need. The caring and compassion warmed my heart. It was also a lesson in letting go and resisting moving to a place of blame. No would have-could have-should have game targeting myself or others. Charlie was in charge and healed enough to fly away to continue his journey. I am grateful to have shared those brief moments with him.
Healing With A Magical Gannet