LOVE MY PET VALENTINE'S DAY CONTEST
 Scroll Down to See the Winners and Experience the Love

Your Pets have a Special Valentine's Day Message for you
LOVE MY PET VALENTINE'S DAY CONTEST WINNERS
Eleanor and Kashmir

Kashmir has Healing Thoughts to share with Eleanor as she grieves his loss
Please take a look at All of the Beautiful Contest Entries Below.  Much Love to All of You!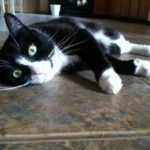 Keith and Avo:
Avo (short for Avocado) is attached to my hip, is incredibly vocal (especially re: food), and is the biggest snuggler around.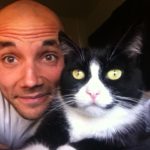 Marla and Brody, Lexie, Chloe, Quint, and Puddle of Love:

 
       Brody & Lexie               Chloe & Quint          Lexie, Brody & Quint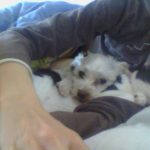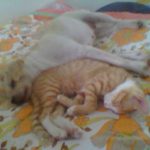 I have been gifted with the most loving animals in the whole world. I am involved in animal rescue in Korea. I come across some of the most abused, ill, "damaged" animals that most people have seen. They've been starved and abused their whole life and have never known a loving touch or a kind word. These animals would have every right to have a closed heart, to be full of anger and to be unwilling to open up and love. That is SO UNTRUE! Every single animal that I have brought into my home has very quickly and easily shown such unconditional love, to me and to all my other animals. Of course, all my animals are special to me, in their own unique way.  But what stands out THE MOST, is the love and tenderness they show to each other.  They've all been in the same boat. They know pain and hurt and any new animal that walks through the door gets embraced by more love than they could ever have hoped for. I hope you can see just a small bit of that love in these pictures. 
Chloe, Lexie and Brody        Quint and Brody              Puddle of Love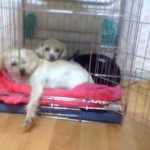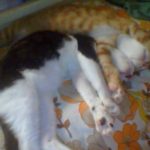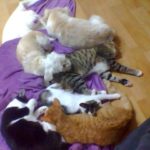 Anita, Pluto and Taz:
Here is my baby PLUTO! He passed about a year ago. We all think about him with enormous love every day. I say baby because he WAS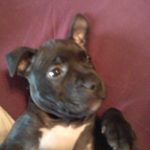 our baby. He slept with us cuddled under the covers sighing when he found his perfect spot and snored the rest of the night taking up as much space as he wanted.  He was a goofy dog and aimed to please. He chased his tail so fast until he got so dizzy he tipped over. He greeted everyone at the door as if they were the most important people in the world. He was also very clumsy and bumped into things and got himself in crazy situations. He was so very special because he made everyone laugh, smile and made every day an adventure. He touched so many lives in the short amount of time he was with us on this earth. He made all of my days bearable! I will always love him.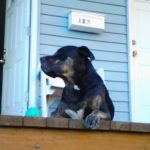 This is my best friend TAZ! There are so many reasons why I love him so much. I moved away a while back to where I knew nobody. TAZ made it less scary for me. He is my home and my safe haven. The energy and love I feel when I hug him overwhelms me. I know dogs don't like to be hugged so tightly but he lets me. He knows I need the closeness. We lay on the beach together a lot. He likes the sound of the waves. When I look at him with his head up I see his eyes closed as he enjoys the warmth of the sun on his face. His nose twitches as he smells the salty air. That's when I know I made him as happy as he's made me. I love him!
Debra and Amon-Ra:
…many lives ago I met a special cat. Through lives, his name changes, he does not. He is my friend, my comforter, my support. He is called this lifetime Amon-Ra, the King of Cats. Amon-Ra is a Pookha, a Guardian Spirit who was sent to make us laugh. He came at a time most needed. He was pulled off death row at NY's Animal Care and Control, and the rescue who had him was seeking a last minute foster when his original backed out when they changed their minds when they found out Amon-Ra was FIV+. I knew he had been sent by our FIV+ cat who had just passed at age 17.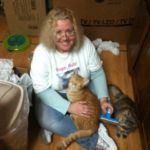 We said YES! to Amon-Ra, who came to live with us.  He had physical issues too, that his rescue helped us with-he had constant bloody noses that eventually resolved themselves with treatment and he is prone to ear issues. Yet, this is a small price to pay to keep company with a magical cat who is, I believe, my familiar, and the sweetest cat you'll ever meet. Happy First Valentine's day with us Amon-Ra. Momma loves you.
Jackie and Charlie: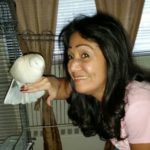 My name is Jackie and this my pet bird Charlie.  He is a 17 yr old Turtle Dove and he's gentle, friendly and so loving.  Always happy to see me whenever I come home.
Dan and Riley:
Riley had a tough puppyhood, one he was lucky to have survived. At age two he was lovingly adopted by my friend. Riley and I met when he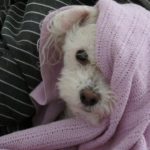 was six. When he was eight, circumstances changed and she could no longer keep him. I thought long and hard about adopting him. But when I did I looked in the eye and said, "Riley, you and I are a family now. And one thing I promise is that you will be loved every day of your life."  He makes me laugh, he brings me joy every day. He's so playful and full of energy. Day and night he is my companion. He is my friend, my buddy, my family. And when times were rough for me, just as they were for him at one time, he kept me going. I looked into those eyes and I remembered my promise to him. And that is why I love him— every single day of his life.
Pam and Laila, Blue and Willow: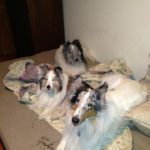 Just cuz I do…
Jeannie and Rocky, Shadow and Stormy: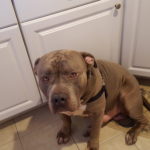 My dog's name is Rocky. He turned 4 yesterday. He is so loving.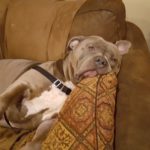 Just a scoobydoo kind of dog and lots of fun.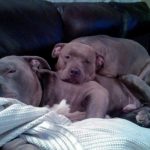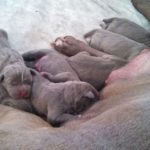 Here are Rocky's parents Shadow turned 9 yesterday. We are his 3rd owner. I love him. He is loyal and gentle. Stormy is our princess. Ever since she had puppies, she rules the house. She is quite spoiled and doesn't listen! She had a cancerous tumor removed during this past year and I worry about her health.
Wes and his Beloved:

One look from her and all my problems melt away.
John and Cuddles: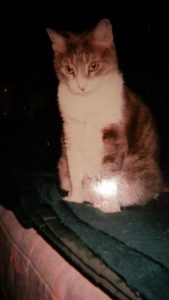 Cuddles gave me much laughter, love and happiness.  She is my Valentine.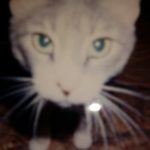 .
Caren and Lucy: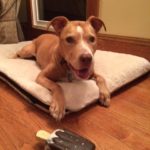 Rescued from the streets at 5 months old, Lucy had a broken leg and had been fending for herself for a month. Forgiving, vibrant and resilient, she has never let her rough start in life get in the way of her giving spirit, her boundless energy and her zest for life. Now 15, we have been together since I adopted her at 6 months. Lucy is sweet, silly and soulful all at the same time! She brightens everyone's day with her big smile, unending supply of kisses, cuddles and unconditional love. We have been through some really tough times together. She fills my life with joy and love and I am so grateful to share my journey with this very special doggy. May her bright spirit shine for years to come.
Jack and Phoebe: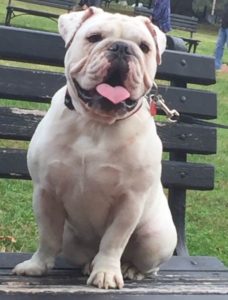 Phoebe our English bulldog is 2 1/2 years old. She loves people. We just moved to NYC and it is nice to see people smile when we walk her about our Hell's Kitchen neighborhood. As you can see, her photos show her tongue shaped like a heart. She has a big heart and loves to put smiles on people's faces.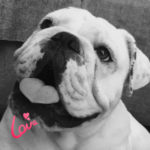 Zen Masters:
Zen pose!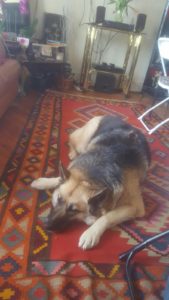 Eleanor and Kashmir: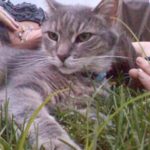 My baby, my soulmate, for 20 years. Kashmir just recently passed away last month.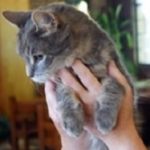 He's forever in my heart.                                                                                           
Liz and Bryce and Zeus: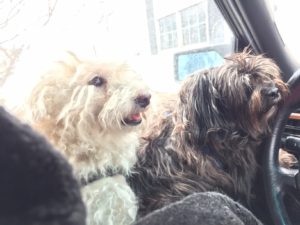 Here's Bryce and Zeus.
They both have become so calm now that they have each other.
Zeus protects all of us!!
Content Copyright 2017 Jill Lauri.  All Rights Reserved.